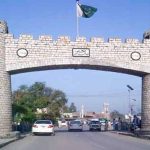 ISLAMABAD: The eighth death anniversary of former Prime Minster Mohtarma Benazir Bhutto would be observed across the country today (Sunday).
Benazir Bhutto was assassinated on December 27, 2007 immediately after addressing a public meeting at the Liaquat Bagh.
Qura'an Khawani and fateha khawani would be held at various cities of the country including Garhi Khuda Bux Bhutto. Party workers will donate blood for paying tribute to the former prime minister.
Pakistan Peoples Party has finalized arrangements to observe the death anniversary Benazir Bhutto in Garhi Khuda Bakhsh Bhutto, where large number of party workers are expected to attend the ceremony.
PPP Chairman Bilawal Bhutto Zardari will donate blood at Naudero House, in Larkana district along with other central and provincial leaders and address a huge public meeting at Garhi Khuda Bux.
The blood donations collected from all over the country would be given to injured soldiers of the armed forces in war against terrorism and patient welfare societies.
Prime Minister Azad Kashmir Chaudhry Abdul Majeed has announced special event at tehsil and district level to mark Benazir Bhutto's death anniversary. …APP