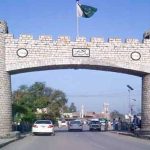 PARACHINAR: Death toll from deadly blast in busy Eidgah market in Parachinar area of Kurram Agency has risen to 15, says political administration of the Agency.
At least 40 people were injured in the blast as well of which conditions of 11 people said to be critical.
The explosions took place in Eid Gah Market of Parachinar, the main town of the Kurram tribal region, near the Afghan border.
The bomb went off in Eid Gah market, located in entering point of Parachinar, as people were buying winter cloths- cardigans, sweaters, jackets and other items, said a local residence.
Eid Gah Market is popular for second-hand clothes that are comparatively cheaper.
It is unclear whether the blast was a suicide attack or a remote-controlled blast. "Explosives experts were still examining the site and collecting evidences to know the nature of the blast, said a security official. The security forces arrested two suspects from the blast site, added sources.
Prime Minister Nawaz Sharif has condemned the Parachinar blast.
In his message, he expressed grief over the loss of life and property and commiserated with the bereaved families.