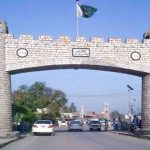 ISLAMABAD: Another 19 people, including nine children, lost their lives in rain and flood-related mishaps across Pakistan in the past 24 hours, bringing the total tally to 1208, according to official statistics released on Friday.
Out of 19, 12 were died in southern Sindh, four deaths were reported in Khyber Pakhtunkhwa, and three in Balochistan provinces, said the country's National Disaster Management Authority (NDMA).
A total of 1,208 people that include 244 women and 416 children have died, and 6,082 have been injured since June 14 last, when the country was hit hard by heavy rains and subsequent flooding.
NDAMA report says that 432 deaths were reported in Sindh, 268 in Khyber Pakhtunkhwa and 25 in Balochistan.
The number of injured persons in Punjab is 3,266—higher than other provinces. 328 people were injured in KP and 166 in Balochistan.
The number of those who injured in Sindh is 1,110.
Apart from human loss, as many as 736,242 houses were partially destroyed by flood, whereas, 436,307 houses were completely destroyed.