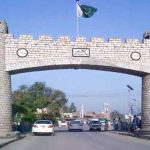 RAHIM YAR KHAN: The death toll from a fire in three bogies of a Tezgam train near Liaquatpur city jumped to 65, while many remain under critical condition, Rahim Yar Khan district government said on Thursday.
"According to the information reaching us from site of the accident, more than 65 people were killed and over 40 injured," Punjab health minister Dr Yasmin Rashid told foreign news agency.
Women and children are among the victims — none of whom have been identified yet. The dead and injured are being shifted to DHQ Hospital in Liaquatpur. Some of the injured have also been shifted to Bahawal Victoria Hospital in Bahawalpur due to their critical condition.
The train was bound from Karachi to Rawalpindi, Radio Pak reported. The fire was caused by a cylinder blast that occurred in the morning when passengers were preparing their breakfast, Railways Minister Sheikh Rashid said and added that they belonged to a tableeghi jamaat who were headed towards Raiwand. Many people saved their lives by jumping off the train, the minister said.
In a video message, Rashid announced that a compensation of Rs1.5 million will be paid to the heirs of the dead while Rs500,000 will be provided to those who are injured.
He said that two of the coaches that caught fire were booked under the name of tableeghi jammat's emir Hussain and added that the ministry was preparing a list of the victims. Rashid said that it was a "failure" on the part of the Railways authorities since they failed to carry out thorough checking of the passengers' luggage.
Nabila Aslam, a Railways official, said that the passengers must have "hidden the gas cylinder in their clothes" while boarding the train, as carrying one was strictly against the rules.
Rescue 1122 teams have extinguished the fire and are now carrying out a cooling and search operation under the supervision of Ahmed. Army troops including doctors and paramedics were also dispatched to assist rescue teams in the operation, a statement by the Inter-Services Public Relations said.
An Army helicopter was also dispatched from Multan in order to rescue the injured, the ISPR statement added further.