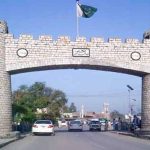 ISLAMABAD: Pakistan Muslim League-Nawaz (PML-N) supremo Nawaz Sharif on Tuesday has criticized recent defectors from South Punjab as usual turncoats who bring bad name to politics and said the eight lawmakers who parted ways with the party had no affiliation with PMLN.
Speaking to reporters at the accountability court, he said the lawmakers had no "PMLN background".
The former prime minister said the PMLN's victory in Lodhran by election was expression of confidence over the record development work undertaken by his party in south Punjab.
He said such comings and goings were normal, but people like these defectors bring bad name to politics.
Sharif said these lawmakers had noted voted in the party election which saw him being elected as president of the PMLN.
He said that those who formed Balochistan Party a few days ago were also of the same category. He completely disowned them as not belonging to PML (N) and its ideology.
Defending PML (N) performance in South Punjab, he said that Shehbaz Sharif did record number of development works there which is why they won in Lodhran.
He assailed those who change parties by terming them a shame to politics. He said that those who have defected are the same who did not vote for my presidency.
About Ch Shujaat's recent book, he did not comment as he said that he hadn't read the book.
Eight lawmakers including six MNAs and two MPAs parted ways with the ruling party on Monday, announcing to launch a movement to make the southern Punjab a separate province.
Addressing a press conference , MNA Khusro Bakhtiar, one of the deserters said: "We are meeting here to announce Junoobi Punjab Sooba Mahaz (JPSM), to create a new province.
Making south Punjab a separate province is our one-point agenda," he said.