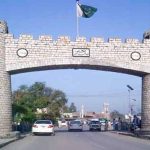 WASHINGTON: An esteemed ceremony on Defence and Martyrs Day was held at Pakistan's Embassy in Washington to commemorate the 54th anniversary of the 1965 war.
Us deputy assistant secretary of defense addressed the ceremony and acknowledged Pakistan Army's success against terrorism.
Pakistani Ambassador to the United States Asad Majeed declared that Pakistan is fully capable to defend its freedom and autonomy, and affirmed that the nation will not hesitate from rendering any sacrifice to protect the motherland.
The ceremony was attended by military attaches of different countries.