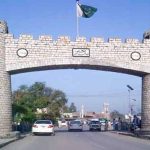 ISLAMABAD: Leaders of the parliamentary parties will hold a sixth meeting today (Thursday) with Speaker National Assembly Sardar Ayaz Sadiq in the chair here in Islamabad to discuss the delimitation issue and likely take a decision over the matter.
The meeting held a day before ended inconclusively due to the absence of Pakistan People's Party (PPP) representation.
PPP's parliamentary leader Naveed Qamar is currently abroad while Opposition Leader Khursheed Shah was unable to make it due to some urgent engagement. Speaker Ayaz Sadiq offered to include Khursheed Shah through telephone call but PTI leader Shah Mahmood Qureshi insisted on his physical presence and thus the issue was postponed.
JUI's federal minister Akram Durrani said that PTI deliberately created a hurdle in the way of consensus. On the other hand, Sheikh Rasheed Ahmad made the delimitation conditional to the restoration of the Khatam-e-Nabuwwat clauses.
Ayaz Sadiq told the meeting that all the concerns raised by PPP had been addressed during the Council of Common Interests. However, the final decision on the bill will be taken in the presence of the PPP leaders.
We'll try to get the bill approved on Thursday, he said.