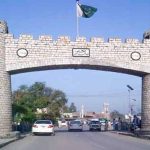 ISLAMABAD: Chief of the Army Staff General Qamar Javed Bajwa Sunday said democracy was flourishing in the country and would continue to get stronger with time.
"Democracy is very much flourishing and will flourish in future too," the Army Chief told APP at the oath-taking ceremony of newly elected President Dr Arif Alvi here at the Aiwan-e-Sadr.
When sought his comments on the swearing-in of the new head of the State, General Bajwa termed it a "significant and wonderful moment" for the continuity of the democratic process.