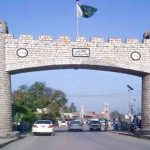 LAHORE: The dense fog prevailing in various cities of Punjab including Lahore, Rawalpindi, Multan and Faisalabad has badly affected the daily routine life including traffic flow, flights and train schedule.
The routine activities of the public suffered a setback as dense fog gripped the entire the entire province. The traffic flow went through a slowdown creating huge problems for the people as they failed to reach their destination on time.
Flight operation at Allama Iqbal airport remained shut through the night while the schedule was also devastated in Rawalpindi, Multan, Faisalabad and Sialkot.
Foggy conditions have also made the railway system sluggish forcing the passengers to wait at the stations for long hours.
Similar situation was witnessed at motorway that was closed for traffic from Pindi Bhattian to Faisalabad, Lahore to Kalar Kahar and from Peshawar to Islamabad. Traffic also moved at a slow speed on National Highway.