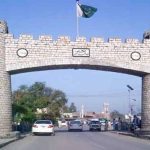 LAHORE: Chairman National Accountability Bureau (NAB) Justice (r) Javed Iqbal has sacked Deputy Director NAB Lahore Muhammad Ramzan over negligence in duties.
According to media reports, action has been taken against the sacked officer after complaints were received against him and investigated.
Chairman NAB said that Muhammad Ramzan would be given full chance to present his case and explain his actions.
Chairman NAB has also ordered action against Deputy Director NAB Sukkur Kashif Mumtaz Gondal apart from 85 other officials of the bureau.