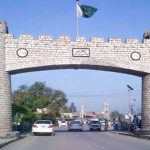 CHORBAT: Gilgit-Baltistan Chief Minister Hafiz Hafeez-ur-Rehman says development of remote and border areas are among priorities of government.
Addressing public gatherings at Chorbat and Gawari areas during his visit to Ghance, Baltistan, he announced to upgrade Chorbat Tehsil as sub-division besides establishment of twenty beds hospital and a degree college for girls.
The Chief Minister also announced establishment of ten beds hospital in Gawari. He said contract of this project would be awarded to contractor next month.
He said a technical college would be set up in Khaplu at a cost of 850 million rupees.