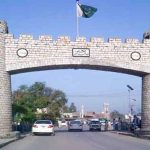 RAWALPINDI: Director General ISPR Major General Asif Ghafoor has cautioned the Pashtun Tahafuz Movement (PTM) not to cross such a limit, where state has to take action against them for establishing its writ.
Responding to a question about activities of the PTM during a press conference here on Thursday, the DG ISPR said that PTM people were also the victim of terrorism, they has lost their relatives in war against terrorism. "We want to help them and solve their grievances". He said that the PTM had three demands including clearance of landmines, missing persons and decrease in checkposts.
The DG ISPR said that after improvement in situation, the army has reduced the number of checkposts as the fencing of the Afghan border would be completed next year, which would further improve the situation.
About missing persons, he said that Pakistan had fought war against terrorism for 15 years. Many terrorists were killed during this period, he said, adding that still the TTP was present on the other side of the border. How could it be proved that some of the missing persons were not part of the Afghansitan-based TTP or they are not fighting or being used somewhere else, he said.
Major General Ghafoor said that complaints regarding missing persons were being received at two places, adding that about 7000 complaints have so far received in this regard. He said that about 4000 cases of missing persons have been solved.
He said that about 70000 Pakistani have martyred or injured in war against terrorism. He said that the state cooperated with the PTM. However, he cautioned that the PTM not to cross such a limit where the state has to take action to maintain its writ.
He expressed concern over increasing ceasefire violations on the Line of Control and Working Boundary by the Indian forces.
He said fifty-five civilians have so far been martyred in the ceasefire violations by the Indian forces this year, which is the highest number in the history.
The DG ISPR said Indian forces are deliberately targeting civilians across the Line of Control.
He said Pakistan has taken several positive initiatives for peace with India, and the latest one is groundbreaking of Kartarpur corridor. He said the corridor will be constructed in six months and four thousand Sikh pilgrims will be able to visit the Kartarpur daily.
He said it will be one-way corridor from the Indian side to Kartarpur and the Sikh pilgrims will remain restricted to Kartarpur.
Major General Asif Ghafoor regretted that the Kartarpur corridor initiative was negatively presented in India. However, he hoped that India will positively respond to this goodwill gesture.
Giving overview of the domestic security situation, the DG ISPR said that law and order has greatly improved across the country.
He said seven to eight terrorist incidents would take place every month in 2013, which has considerably decreased.
He said civilian casualties have also decreased to a great extent. He expressed confidence that there will be complete peace in the country as a result of the ongoing stability operations.
DG ISPR said incidents of terrorism and other crimes like abduction and extortion have greatly decreased in erstwhile FATA, Balochistan, and Karachi.
He said a total of 2200 Ferraris have laid down their arms in Balochistan during three years.
He urged the disgruntled elements in Balochistan to relinquish their violent path and join the national mainstream.