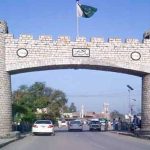 RAWALPINDI: Director General Inter-Services Public Relations (ISPR), Major General Asif Ghafoor has congratulated the Army Public School (APS) attack survivor Ahmad Nawaz, who received six A stars and two A's in his GCSE exams.
"Congrats and well done dear Ahmed Nawaz. You made us all proud and defeated evil forces through your courage, determination and power of education. Good luck in your future pursuits and stay blessed," DG ISPR said in a tweet.
Ahemd Nawaz also shared his feat on his Twitter account, "My International GCSE exam result just came out and I am very proud to announce
that I got " 6A*s & 2As " in eight exams."
"Thanks to my parents and all of you for supporting me. "This is a big success for me and takes me many steps closer to my admission in Oxford
Uni (University)," he added.