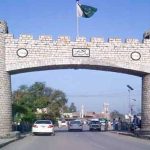 RAWALPINDI: Director-General of Inter-Services Public Relations (ISPR) Major General Asif Ghafoor hailed the talent hunt programme conducted by the Pakistan Cricket Board (PCB) in North Waziristan Agency for the youth of the Federally Administered Tribal Areas (FATA).
In a tweet on Saturday, the DG ISPR lauded the trials as "another indicator of peace". He thanked the PCB for providing an opportunity to the FATA youth to showcase their talent and said such programmes would be introduced in other agencies as well.
"This is another indicator of peace. Normalcy returning. The vibrant youth of NWA going through PCB talent hunt program. Soon in other agencies as well IA. Thanks to @TheRealPCB talent hunt team for affording a deserving opportunity to FATA Youth; the real future," he tweeted.
The PCB, in collaboration with the Pakistan Army, organised trials at the Younis Khan Cricket Ground in Miranshah, North Waziristan Agency on Saturday.
The trial team consisted of former Test cricketer and head coach of the National Cricket Academy (NCA) Mushtaq Ahmed, leg-spinners Shadab Khan and Yasir Shah, and General Manager NCA Ali Zia.
Selected players will be part of the PCB skill development camp under the auspices of the NCA, in an initiative designed to help the youth of FATA to showcase their talent and represent at the national level at par with other sportspersons from across the country.
In September last year, an exhibition match between a Pakistan XI team and UK Media XI at Miranshah was a testimony to the defeat of terrorists' narratives.