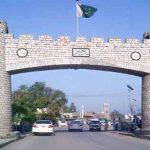 KARACHI: Director General Rangers Sindh Major General Mohammad Saeed visited various sectors in Karachi on Wednesday and met with officers and jawans.
Speaking on the occasion, the Director General said the security forces are well aware of the internal and external forces using miscreants to create hurdles in the way of establishing peace in Karachi.
He expressed the determination that the Rangers, in cooperation with people, will foil the designs of the terrorists.
He said sustainable peace will be ensured in Karachi.
Major General Muhammad Saeed lauded the role of Sindh Rangers, and particularly paid tribute to lieutenant General Bilal Akbar for restoring peace in Karachi.