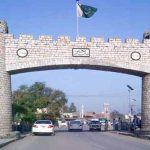 DI KHAN: Chief of Jamiat Ulema-e-Islam Fazl (JUI-F), Maulana Fazlur Rehman Thursday said that Dera Ismail Khan is becoming a hub of the national trade and economic activities in the wake of historic China Pakistan Economic Corridor (CPEC).
Addressing a public rally here at tehsil Paroha, the JUI-F leader claimed that he convinced the government of China for linking DI Khan Corridor with Gwadar and Kashghar, Chinese town. The CPEC, he said would connect Gwadar with Kashghar and onward to Central Asian states.
Maulana Fazl said the July 25 election would determine the direction of the country for next five years, therefore the people should elect honest and dedicated people to take the country on road to progress and prosperity.