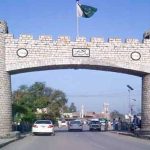 DERA ISMAIL KHAN: Residents of three villages in Dera Ismail Khan were told to observe strict quarantine after they attended the funeral of a man who is believed to have passed away after contracting coronavirus.
According to sources, the district administration has warned residents of Tiken, Bucha and Syed Nagar villages and adjoining localities to stay at home in quarantine and refrain from practicing any social contact, gatherings, and congregations.
However, the residents have dismissed the district administration's orders and thrown caution to the wind.
Authorities had issued warnings immediately after the death of a man aged between 30-35 years, a resident of Syed Nagar.
Sources said that the deceased used to work in Saudi Arabia and had arrived a few days before his death to tied the knot in Tiken village.
The deceased reportedly had the coronavirus but could not be diagnosed until after his marriage ceremony.
His condition later aggravated and he was shifted to Mufti Mehmood Teaching Hospital, where he eventually passed away.
Pakistan has reported 11 deaths from the novel coronavirus in the country, with the latest casualty reported from Punjab on Saturday.
The country has also reported more than 1,300 cases of the virus, with Punjab surpassing Sindh as the worst-affected province in the country with 490 confirmed cases so far.