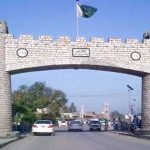 SWAT: Ameer Jamaat-e-Islami senator Siraj-ul-Haq has urged the need for dialogue between Pakistan and Afghanistan to resolve their disputes.
Addressing a function in Swat on Monday, he said that peace in Afghanistan is imperative for progress and prosperity in the region.
Siraj-ul-Haq said that his party will continue to work for strengthening democracy and supremacy of law in the country.