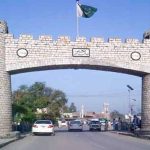 KARACHI: The differences between Muttahida Qaumi Movement-Pakistan (MQM-P) leader Farooq Sattar and Rabita Committee have intensified as negotiations between the two parties failed.
According to media reports, the deadlock between Farooq Sattar and representatives of Rabita Committee still existed over the issue of Kamran Tessori.
Sattar has said that a second round of talks would be held today over the issue; however, MQM-Bahadurabad has refused to negotiate.
The media reports added that Rabita Committee had put three conditions before Sattar, which he rejected and insisted on supporting Kamran Tessori.
However, the Rabita Committee in its meeting has decided not to accept Kamran Tessori.
Let it be known that MQM-P has split into two over the issue of giving ticket to Deputy Convener Kamran Tessori for Senate elections.