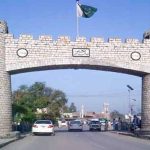 KARACHI: A doctor serving at the quarantine centre in Sukkur's Labour Colony has tested positive for coronavirus, confirmed district health officer Shabbir Ahmed Dayo. He has isolated himself at his residence.
As many as 265 pilgrims, who had returned from Iran and were quarantined in the Labour Colony facility, have tested positive with the virus so far.
The doctor had been deputed at the quarantine centre since the day it had become operational. According to his fellow doctors, he is looking forward to recovering from the virus and resuming his duties.
Earlier this week, a doctor in Gilgit-Baltistan lost his life due to the virus, which he contracted while taking care of coronavirus patients.
Doctors and paramedics in many cities of the province are dissatisfied with both the training provided to them for dealing with infected patients and the safety equipment given to them.
On Thursday, the prime minister's special assistant on health, Dr Zafar Mirza, announced that the government would soon begin training doctors about how to handle coronavirus patients.