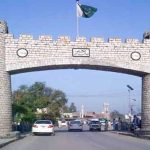 RAWALPINDI: A five-member medical board on Tuesday recommended constant medical care and attention for former prime minister Nawaz Sharif who is improsoned at Adiala Jail.
The member medical board formed by Pakistan Institute of Medical Sciences (PIMS) conducted a medical check-up of Nawaz in Rawalpindi's Adiala jail on Monday, where the PML-N quaid is serving his sentence for corruption.
The medical team, which according to sources, suggested that the former premier be shifted to a hospital over fears that his condition may deteriorate if he remains in jail, visited Nawaz again today.
During their visit, which lasted approximately 2.5 hours, the doctors conducted another check-up of the premier. They also carried out medical tests and briefed Nawaz on his medical condition, sources said.
Blood samples of the incarcerated leader would be sent to a laboratory, they added.
The medical board also apprised the jail administration of Nawaz's condition and instructed the authorities to monitor his vitals including blood pressure and sugar levels at regular intervals.
It emerged yesterday that Nawaz had refused to be shifted to a hospital despite the recommendation of the medical board.
As per his medical report, there is a risk of Nawaz's kidneys failing due to a lack of water. "Heat and lack of sleep have also affected the former premier's health," the report stated, warning that his heart ailment could worsen if his condition did not improve.
Nawaz, who flew from London to Lahore alongside his daughter Maryam Nawaz on July 13, was arrested on arrival at the Allama Iqbal International Airport, flown to Islamabad via a helicopter, and shifted to jail, where he is serving the sentence awarded to him in the Avenfield properties case along with his daughter and son-in-law Capt (retd) Safdar.