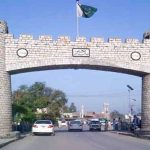 KARAK: Pakistan Tehreek-e-Insaf Chairman Imran Khan has said that he was standing against former prime minister and supreme leader of Pakistan Muslim League-Nawaz (PML-N) Nawaz Sharif who was being backed by international establishment.
Addressing a public rally here on Saturday, the PTI chief said that he was fighting against a mafia.
He also urged the people to not for independent candidates in the forthcoming polls as they can't do anything for them.
He went on to say that independent candidates sell themselves after winning the election.
Imran said that the US dollar hike against Pakistani rupee is a gift of the Charter of Democracy signed between PML-N and Pakistan People's Party (PPP).
The PTI Chief said that if given power, his government would conduct election in the district for Mayor, adding that the people would be given facilities through local bodies' election.
The PTI leader also pledged to strengthen NAB by giving the anti-graft body more authority if voted to power.