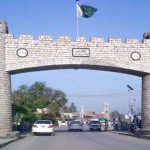 KARACHI: Dollar rate in interbank market on Monday increased by 45 paisa after what the dollar value reached Rs132.90.
According to details, dollar is fluctuating between Rs130 and Rs132.90 in open market.
On the other hand, Pakistan capital today recorded fresh gains and registered an increase of more than 800 points in intra-day trading.
The Karachi Stock Exchange 100 Index (KSE-100 Index) has crossed 41,350 level.
Earlier, Prime Minister Imran Khan struck a 12-month deal for a balance of payments lifeline during a visit to Saudi Arabia, which will deposit $3 billion with Pakistan's central bank and provide a matching deferred payment facility for oil imports.
The government has also entered talks with the International Monetary Fund (IMF) as it seeks a potential bailout package to stem its balance of payment and current account deficits.
The relief package of October 25, will likely to lessen the amount of funds the country needs to secure from the IMF, analysts said.
Pakistan might get a $6-7 billion financial package from the IMF in the wake of the Saudi deal.
An IMF team is set to arrive in Pakistan in early November to begin negotiations.