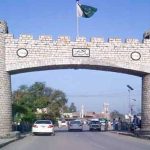 KARACHI: The US dollar Friday morning touched a new record high of Rs149 in the interbank market and Rs150 in open market.
The greenback gained by another Rs2.48 in the interbank market to reach the latest peak. It is currently being bought for Rs147 in the interbank market.
The US dollar also soared to a record high of Rs150 in the open market.
On Thursday, the dollar hit a high of Rs147 in the open market, and was at Rs146.25 in the open market on Wednesday, before it bounced back to Rs144 the same day.
Meanwhile, bearish sentiments prevailed in stocks as the KSE-100 plunged nearly 900 points in intra-day trading amid concerns over the macroeconomic indicators.
The KSE-100 slumped to a low of 33,056 points as investors offloaded stocks following devaluation of rupee in inter-bank market.
Investors are being cautious and as they remain largely on the sidelines the volumes remain low, which is dragging share prices lower.