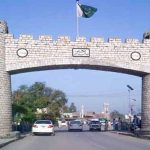 KARACHI: Fluctuations in the US dollar against the rupee continued as the market opened on Monday.
The greenback increased by Rs1.43 after initially rising by Rs1.57 and was being traded at Rs133.40 after closing at Rs131.97 on Friday.
However, in the open market the dollar remained stable at Rs132.
Following a steep increase in the greenback's price last week, the rupee made a recovery against the dollar in the interbank market on Friday as it was trading at Rs132.40 in the interbank, down Rs1.40 and closed at Rs131.93, down by Rs1.87.
The US dollar had gained by over Rs6.50 to touch a new high in the open market, while in the interbank market it had risen by Rs9 to reach Rs133.64 on Tuesday.
The Pakistan Stock Exchange (PSX) also shed 476 points as the market opened today and stood at 37,041 points.
Last week, the government approached the International Monetary Fund (IMF) to deal with the prevalent financial crisis. The international lender has asked Pakistan to disclose its debts with "absolute transparency" to receive a bailout package.
If a package is agreed, it would be Pakistan's 13th IMF bailout since 1988. The Fund lent Islamabad $6.7 billion in 2013.