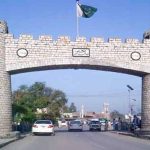 ISLAMABAD: Chairman Public Accounts Committee (PAC) Noor Alam Khan has expressed anger over absence of IG FC Khyber Pakhtunkhwa from the meeting and said that dollars are being smuggled to Afghanistan in cement bags. He asked that who is responsible for smuggling of dollars to Afghanistan.
Chairing PAC meeting on Wednesday, he directed the authorities concerned to check out entry of Afghan refugees at Afghan border by blocking their fake National Identity Cards (CNIC) and passports.
Noor Alam Khan  said that some Afghani people were involved in smuggling dollars in cement bags which was boosting the Afghanistan's economy.
Noor Alam urged the National Database & Registration Authority (NADRA) to block Afghani refugee's cards and passports and also directed the Ministry of Interior to take prompt action against them. "Many Afghan terrorists were arrested in the past and CNICs recovered from their possession", he added.
He said it was the foremost responsibility of the officials to prioritize the national interest and armed forces should monitor the suspicious persons' activities in the prevailing situation and economic crisis of the country.
Chairman PAC lauded the efforts of armed forces in eliminating terrorism and subversive activities from the country, adding in the recent Peshawar terror incident, numerous police personnel had embraced martyrdom to foil the bid of terrorism.
Noor Alam directed Chairman NADRA Muhammad Tariq Malik to provide complete record regarding dubious CNICs of Afghan refugees and other countries in the next meeting.
The Chairman NADRA apprised the committee that the authority had not issued around 1427 CNIC dubious cards due to irregularities.
He said the NADRA officials would follow the directions of PAC to make the CNIC issuance system more effective as there was zero-tolerance for corruption in the department.
The PAC meeting was attended by MNAs Nawab Sher, Wajiha Qamar, Chaudhry Barjees Tahir, Dr Nisar Ahmed Cheema, Khursheed Ahmed Junejo, Shahida Ali Akbar, Sheikh Rohale Asghar, Ramesh Kumar Vankwani (via video link), Senators Mushahid Hussain Syed, Mohsin Aziz and Syed Shibli Faraz.