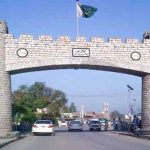 LAHORE: Governor State Bank of Pakistan (SBP) Tariq Bajwa has said that the exchange rate moves on demand and supply in market thus the rate of dollar related to the market conditions.
Addressing a ceremony at introduction of the One-link system in Punjab Revenue Authority, the central bank governor said the digitization is the part of the government plan, "We are moving towards all payments of amounts through digital online payment."
He said the value of dollar is related with the market conditions adding that Finance Minister Asad Umar was aware about devaluation of rupee.
The governor central bank said that only inflow of more dollars and improvement in the economy will help to improve the standing of the rupee.
The rupee has been under pressure, however, the concession in oil payments could help the Pakistani rupee, he said.
The SBP governor said that online payment of the sales tax will prove beneficial to the business community. The digital system of tax-payment will ensure a prosper Pakistan.
Bajwa said that the Supreme Court's abrogation of mobile phone tax affected the tax net.
Finance Minister of Punjab Makhdoom Hashim Jawanbakht said that the Punjab government facilitating tax payers and introducted the One-link system for payment of taxes.
He said the government believes in facilitation for the business community.