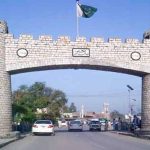 LAHORE: Punjab Chief Minister and Pakistan Muslim League-Nawaz (PML-N) President Shehbaz Sharif has questioned his political opponents as to what work they have done in the provinces they have been ruling.
Addressing a Labour Day event in Lahore, Shehbaz Sharif said that Pakistan Tehreek-e-Insaf (PTI) Chairperson Imran Khan's manifesto is just staging protests and not do any work for the people of Khyber Pakhtunkhwa where the PTI has formed government in 2013.
The Bus Rapid Transit in Peshawar would take yet another year for completion, said Shehbaz Sharif and added that they would complete the project if voted to power in the province.
He also targeted the Pakistan Peoples Party's (PPP) government in Sindh and said that there has been a tradition of not serving the people in Sindh since years.
He added that people – sinking in corruption – were giving advices to others.
Shehbaz further said that National Accountability Bureau was active in Punjab, adding that NAB investigation in the province is welcomed but double standards of the watchdog would never be accepted.
He also said that he is willing to be held accountable if a single penny corruption is proven against him.