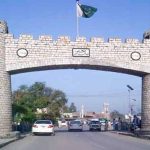 ISLAMABAD: Pakistan Peoples' Party (PPP) leader Dr Asim Hussain submitted on Wednesday a contempt petition in the Supreme Court against the Interior Ministry for not stricking off his name from the Exit Control List (ECL).
On November 16, an apex court comprising Justice Mushir Alam and Justice Qazi Faez Isa had directed the government to strike off Dr Asim's name from the Exit Control List (ECL) so he can travel abroad for medical treatment.
In the contempt of court petition submitted today, Dr Asim has named Interior Secretary Arshad Mirza and other officials as respondents.
The petition states that the officials, despite repeated verbal and written reminders since the November 16 order of the apex court, have not removed Dr Asim's name from the ECL.
It pleads that contempt proceedings be initiated against them for flouting the Supreme Court's orders.
Dr Asim, a former petroleum minister is accused in three cases: two of corruption during his stint in the last federal government and one of facilitating terrorists at his hospital.
On August 29, Dr Asim was allowed to leave for London for a back surgery and ordered to submit a surety bond of Rs6 million.