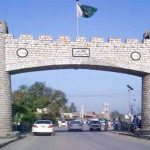 MIRAN SHAH: A drone attack has been carried out near the Pak-Afghan border in North Waziristan Agency (NWA) reportedly killing Sajna Mahsood – the deputy head of a proscribed organization.
According to sources, the drone attack has been carried out in NWA which resulted in a number of casualties that are yet to be confirmed.
Sources said that another man, who identity has yet not been ascertained, was also killed in the attack beside Sajna Mahsood.
On Thursday (February 08, 2018), at least three persons were killed and two injured in a US drone attack in the agency near Pak-Afghan border; however, the political administration of NWA had confirmed that the attack was carried out in Afghanistan.