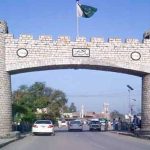 UPPER DIR: Pakistan Tehreek-e-Insaf (PTI) Chairman Imran Khan said on Friday that the dynastic politics has always restrained the democracy to flourish in the country, safeguarding the personal interests of corrupt leaders.
Addressing a public gathering in Upper Dir of Khyber Pakhtunkhwa, the PTI chief said that the nation is in dire need of 'new Pakistan' to overcome prevailing issues concerning the common masses.
Laying emphasis on reforms, Khan said that the major plunders of public wealth get an extensive protocol of 40 vehicles.
The 'so-called leaders' have been involved in taking away the public wealth into their foreign accounts which has pushed the country to a financial crisis, Khan said.
"Every Pakistani citizen owes a debt of Rs120,000; [the] amount was Rs35,000 back in 2008," he claimed.
Coming down on Zardari and Sharif, the PTI chief said they have been plundering the nation's wealth for years and the recent inflammation is consequent of their wrongdoings.