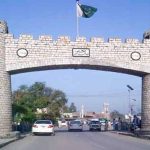 KARACHI: A moderate earthquake tremors jolted several parts of Karachi on Tuesday, as people, frightened by the tremors, came out into the safety of the open area.
According to details, the quakes were only felt in certain parts of the city such as Gulshan and Gulistan-e-Jauhar. Students of NED University and Karachi University came out of the universities into the safety of the open area, after feeling the tremors.
Cracks appeared in walls due to the intensity of the earthquake.
So far, the epicenter of the earthquake was not be determined however, its depth was estimated at 12 km while it was measured at 3.6 on the Richter scale.
No loss of life or damage to property has been reported as yet.