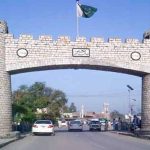 A major earthquake of magnitude 7.7 struck southern Türkiye and northwestern Syria, killing over two thousand people as buildings collapsed and triggering a search for survivors trapped in the rubble, Turkish media reported.
Türkiye's Disaster and Emergency Management Presidency (AFAD) said that the 7.7 magnitude quake struck at 4:17 am (0117 GMT) and was centred in the Pazarcik district of Kahramanmaras province on Monday.
AFAD earlier updated the intensity of the quake from 7.4 to 7.7 magnitude at 0955 GMT.
At least 1,498 people have been reported killed in Türkiye, according to AFAD, and 8,533 people were reported injured in the quakes that destroyed dome 2,824 buildings.
In Syria, the latest numbers from the regime's health ministry and Syrian Civil Defence showed at least 783 people were killed after the quake in Türkiye jolted the wider region.
The quake in Türkiye occurred at a depth of 7 kilometres (4.3 miles) and was followed by 105 aftershocks, including two magnitude 6.6 and 6.5 quakes that struck southeastern Gaziantep province, according to the latest AFAD data.
President Tayyip Erdogan said 5,383 had been injured but he could not predict how much the death toll would rise as search and rescue efforts continued. He added that 2,818 buildings had collapsed
"Everyone is putting their heart and soul into efforts although winter season, cold weather and the earthquake happening during the night makes things more difficult," he said.
Live footage from Turkish state broadcaster TRT showed a building collapse in the southern province of Adana after the second quake. It was not immediately clear if the building was evacuated.