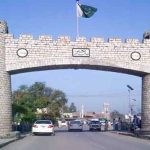 ISLAMABAD: Federal Minister for Finance Asad Umar on Tuesday chaired a meeting of the Economic Coordination Committee (ECC) of cabinet and discussed a seven-point agenda.
During the meeting, the committee approved a summary for gas supply from Fazal Field and Rs 180 million for Pakistan Banao Certificates (PBC).
Meanwhile, funds for better management of the western borders of the country were also approved.
Earlier, ECC had approved supplementary grant of Rs46.4 million for payment to the families of the deceased employees of the Petroleum Division.
The committee had also accepted proposal of the finance division to place a summary before the federal cabinet for supplementary grant of Rs200.075 million to the provincial government of Baluchistan as its share for "Pur-aman Balochistan" programme.