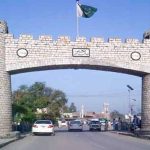 ISLAMABAD: The Election Commission of Pakistan (ECP) on Friday announced the schedule for re-election in PK-95, Lower Dir-II.
According to schedule, the re-election is scheduled to be held on July 12.
According to ECP, the nomination papers can be filed on 15th and 16th of the current month while the scrutiny of the papers will be done on June 18 and 19.
The final list of candidates will be issued on June 26.
The seat fell vacant after JI Amir Sirajul Haq was elected to the Senate. Fellow party member Izazul Mulk emerged victorious after edging out Awami National Party's Haji Bahadar Khan. But ECP declared the by-polls result null and void after the women were denied their fundamental right of voting in May 7 by-polls.