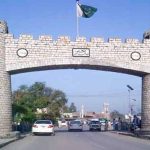 ISLAMABAD: The Election Commission of Pakistan (ECP) has assured a delegation of Muttahida Qabail that every possible effort will be made to hold elections for provincial assembly in erstwhile FATA at the earliest.
The assurance was given by the Election Commission officials to the delegation at a meeting in Islamabad on Friday.
The Election Commission informed the delegation that under the constitution, the Commission will complete delimitation of constituencies for sixteen seats of FATA in Khyber Pakhtunkhwa Assembly within one year of general elections 2018.