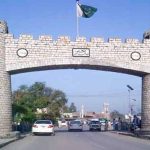 ISLAMABAD: Following criticism from the Senate over grant of magestrial powers to the armed forces personnel on poll duty, the Election Commission on Sunday clarified that troops will be deployed to ensure a free and fair election.
In a detailed response, the electoral commission said that troops will be deployed under The Elections Act, 2017, and would perform duties in line with the poll code.
In a notice this month, the Election Commission gave soldiers the authority of a "magistrate", to hold on-the-spot trials of anyone breaking election laws and sentence them.
In one scenario, those found guilty of the offence of "corrupt practice" could be imprisoned for up to six months.
The commission dismissed that granting broad election powers to troops on duty would lead to duplication of powers, saying it was working under its given mandate.
The Army would remain neutral, military spokesman Major General Asif Ghafoor told a news conference this month.
"The Pakistan army's role is to support the election commission with the tasks they have asked us to help," he said.
The military has received similar powers at least once before, during a series of special elections in 2013.