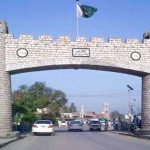 ISLAMABAD: The Election Commission of Pakistan (ECP) on Friday disqualified Pakistan Tehreek-i-Insaaf from contesting the upcoming by-polls in Chakwal as it has failed to hold intra-party elections.
ECP had on March 31 declared that the PTI was not eligible to be allotted an election symbol, as it had failed to hold intra-party election, for any upcoming election.
A candidate with the party's ticket can contest any upcoming by-election as an independent candidate but not on the party's election symbol of a cricket bat, ECP had said.
"The PTI was due to hold intra-party elections on March 23. Due to failure to do so, the PTI is no longer eligible to contest the by-elections in Chakwal," a statement issued by the ECP said.
The statement added that the party may not be able to take part in any elections till they act in accordance with the Election Laws 2017 and hold intra-party elections.
The ECP is monitoring all parties to ensure that the code of conduct issued by the commission is not violated, the statement said.
Notices have been issued to PTI Chairman Imran Khan, PML-N leader Hamza Shahbaz and Jamiat Ulema-i-Islam Fazlur Rehman for violating the code, the ECP said.
Minister of Railways Saad Rafique, Minister of State for Water and Power Abid Sher Ali have also been summoned by the commission in reference to violating the code, the ECP statement added.
The statement also said that the commission has completed audit of the statement of assets of 320 National Assembly members, adding that notices have been issued to 85.
It was reported earlier that the PTI core committee had postponed intra-party elections owing to the ongoing Panama Leaks case in the Supreme Court. The committee wanted to hold intra-party polls after general elections in 2018.