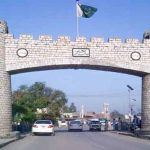 ISLAMABAD: The Election Commission of Pakistan (ECP) has constituted as many as 20 appellate tribunals for appeals against the decisions of Returning Officers (ROs).
According to ECP's notification, the appellate tribunals would comprise high court judges and will decide on appeals till June 27.
The notification added that eight tribunals have been formed for Punjab, six for Khyber Pakhtunkhwa, four for Sindh and two tribunals have been constituted for Balochistan.
Candidates could file appeals in the tribunals till June 27, said the notification.