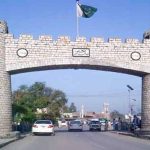 ISLAMABAD: The Election Commission of Pakistan has issued a code of conduct for media to cover general election.
According to the guidelines provided in the code, the media should properly inform public about relevant electoral matters such as political parties, candidates, campaign issues and voting processes.
All media houses have been asked to follow professional standards and strive for accuracy, balance and impartiality as far as possible. The news, current affairs programs, interviews, talk-shows and analyses should not be biased in favor of or against any party or candidate.
The media has been urged to keep a clear distinction between editorial, opinion, news and paid content. It should avoid all forms of rumour, speculation and disinformation regarding political parties and candidates.
The media has been asked to discourage all forms of hate speech that can be interpreted as incitement to violence.
The code of conduct reminds the media of its duty to respect and promote tolerance and avoid all forms of expression that might be interpreted as incitement to violence.
The Commission has asked publicly owned media to grant all political parties and candidates airtime and news space for direct access programmes on a fair and non-discriminatory basis.
The code of conduct says broadcasters will not air any final, formal and definite elections results without the consent or they will be aired only with clear disclaimer that they are unofficial, incomplete and partial results.
It states that the authorities should make special efforts to investigate all acts of violence, intimidation or harassment directed against media personnel or the property or premises of a media outlet. There should be no prior censorship of any election coverage and programme.