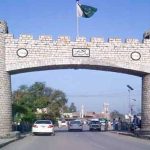 ISLAMABAD: Election Commission of Pakistan (ECP) on Friday issued a detailed order in contempt of court case against Chairman Pakistan Tehreek-e-Insaf (PTI) Imran Khan.
With the signature of Chief Election Commissioner Justice Sardar Muhammad Raza and four Commission members, the order issued here said that the commission is constrained to and hereby issues bailable warrant of arrest in a sum of Rs 100,000 with two sureties under section 76 read with section 86 of the Cr.PC for 25.9.2017.
It added, from the discussion by learned counsel on either side, it is informed that the respondent is available in the country today but yet he did not care to appear. It seems that every order of the commission is violated day in and day out.
The respondent is not in attendance against show cause notice issued by the commission after taking cognizance of offence, the order said.
The petition was filed by founding member PTI Akbar Sher Babar against PTI. Syed Ahmed Hassan was the counsel for Akbar S Babar while Babar Awan appeared in the commission from PTI side.
It is pertinent to mention here that the ECP had issued the contempt notice to Imran Khan on January 24 over his remarks about the commission on the petitions filed by former PTI member Akbar S Babar seeking Imran Khan's disqualification.
Last month, ECP had issued a second show cause notice to Imran Khan after he failed to reply to the earlier notice regarding the contempt of court proceedings against him.
Challenging the commission's authority to hear the case, Imran Khan also raised objections over ECP's jurisdiction to initiate contempt proceedings against him, however, the commission ruled that it is within the ECP's jurisdiction to take action on contempt of court.