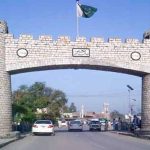 ISLAMABAD: Election Commission of Pakistan (ECP) has issued the final list of candidates contesting the by-elections from NA-258 Karachi constituency.
The seat fell vacant after former minister of state and PML-N leader Abdul Hakeem Baloch had resigned from the party and joined Pakistan People's Party (PPP).
Pakistan Muslim League – Nawaz (PML-N) has not fielded any candidate in the by-election. Baloch contesting the election on the PPP ticket along with 16 candidates from different political parties. The by-election will be held on 24th November.
Election Commission of Pakistan (ECP) had earlier announced the by-election in NA-258 on 22nd November. However, the poll date later extended to 24th November due to the administrative reasons.
A tough contest is expected between PPP's Abdul Hakeem Baloch, Mohammad Ali Bangash of Pakistan Tehreek-e-Insaf (PTI) and Mumtaz Ali Imrani of Muttahida Qaumi Movement (MQM).