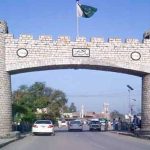 ABBOTTABAD: As many as 2946639 registered male and female voters of Hazara division would exercise their right to vote in upcoming general elections.
According to the election commission of Pakistan (ECP) statistics, the total number of registered voters also includes 1635520 male and 1311119 female voters from all six districts of Hazara region.
The ECP statistics also showed the district wise voters details where the district Manshera contains the largest number of voters population with 947076 including 531108 male and 415968 female voters.
In the district, Abbottabad total number of voters 838726 including 457221 male and 381505 female voters and it remains on the second number in voters population.
The total numbers of registered voters in district Haripur were 657648 including 354130 male and 303518 female with the third highest number of voters in Hazara region.
The number of registered voters in the remaining three districts was low wherein Kohistan district 154620 have been registered including 89171 male and 65449 female voters.
In the district, Battagram 258155 voters including 152297 male and 10585 female voters were registered with ECP while in Torghar district only 90414 voters including 51593 male 38821 female voters have been registered.