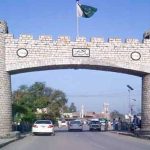 ISLAMABAD: The Election Commission of Pakistan on Thursday issued schedule for general elections to be held on July 25.
Addressing a news conference in Islamabad on Thursday afternoon, Secretary Election Commission Babar Yaqoob said candidates can file nomination papers from second to sixth of the next month.
ECP Secretary Babar Yaqoob announced the schedule, saying the polls will be held on July 25, 2018 without any delay.
As per schedule, he said, returning officers will issue public notices on June 1, inviting nomination papers from candidates intending to contest the polls. Candidates will be able to submit their nominations between June 2 and 6.
A list containing the names of candidates will be published the very next day. Afterwards, the process of scrutiny of nomination papers will begin, which will continue until June 14.
Candidates will be able to file appeals against rejection or acceptance of nomination papers by returning officers until June 19 and election tribunals will hear and decide these appeals until June 26.
The final list of contenders who will run in the upcoming general elections will be published on June 27, while nomination papers can be withdrawn until June 28.
Election symbols will be allotted to candidates on June 29, according to the commission.