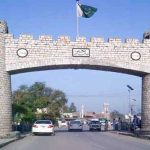 ISLAMABAD: The Election Commission of Pakistan (ECP) has been moved for disqualification of detained MNAs Mohsin Dawar and Ali Wazir.
The application for disqualification of the MNAs was submitted by former chairman of the Democratic Party of Pakistan Fatehyab Khalid.
The applicant claimed that MNAs Ali Wazir and Mohsin Dawar were involved in anti-state activities and violated their oath, therefore, they should be disqualified. The ECP was also requested to impose ban on political activities of the two lawmakers.
Both the lawmakers are in jail.