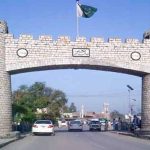 The Election Commission of Pakistan (ECP) on Wednesday proposed dates for holding polls in Punjab and Khyber Pakhtunkhwa.
As per details, the Election Commission wrote letters to principal secretaries of Punjab and Khyber Pakhtunkhwa governors about the polling day.
According to letters, the ECP has suggested that by elections be held in Punjab on any day between April 9 and April 13, and in Khyber Pakhtunkhwa on any day between April 15 and April 17.
The ECP asked the governors of the Punjab and Khyber Pakhtunkhwa to decide about the final date for polling and inform the election body.
Meanwhile, an important meeting in the chair with Chief Election Commissioner Sikandar Sultan Raja held to discuss the KP and Punjab elections. The ECP said that it was ready to hold elections in both provinces.
The meeting was told that preparations regarding setting up of polling stations and voters' lists had been made. The CEC directed to spur efforts for conducting the polls in both the provinces.
The meeting decided to release the election schedule after governors of both the provinces would give their polling dates.
The meeting was attended by the ECP members, provincial election commissioners and officials of all the wings of the commission.
The meeting mulled over the preparations for the election in Punjab and KP provinces as well as by-polls on the vacant seats.
The CEC asked the authorities to expedite appointments of presiding officers and other polling staff for the elections.