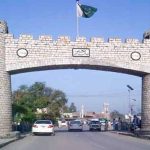 ISLAMABAD: The Election Commission of Pakistan (ECP) on Wednesday rejected the application of Milli Muslim League (MML) for registration as a political party with the ECP.
A four-member bench of ECP headed by Chief Election Commissioner Justice (Retd) Sardar Raza Khan had earlier reserved its verdict after hearing the case.
Later in the day, the ECP issued a short order rejection the MML application for registration as political party.
Earlier, during the hearing MML chief Saifullah Khalid's counsel appeared before the commission. He took that plea that as citizen his client had the fundamental right of forming political party.
The counsel argued that his client had the right to register political party. He added that no office-bearer of the party had any FIR against them.
Regarding the Interior Ministry's opposition to registration of MML as political party, the counsel said that the Ministry had not provided any proof along with its letter.He added that the constitution of MML was in conformity of constitution of Pakistan. The counsel said that as per the party constitution no terrorist can hold office of the party.
It is to be mentioned here that Interior Ministry has opposed registration of MML as political party.
The Ministry in a letter to the commission said that the group has links with proscribed organisation and intelligence agencies has opposed its registration as political party.
It is to be mentioned here that the MML was launched about two moths ago and a candidate backed by it contested NA-120 by-polls.