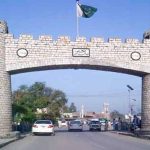 ISLAMABAD: The Election Commission of Pakistan (ECP) on Wednesday rejected a request by the Pakistan Tehreek-e-Insaf (PTI) to extend the time of polling for the coming general elections.
A day earlier, the party through its information secretary Fawad Chaudhry wrote a letter to the electoral body demanding that the polling time should be fixed from 7am till 8pm due to the possibility of hot weather.
Fawad Chaudhry said the time for polling should be extended by three hours as voter turnout remains low at afternoon because people don't come out between 12 noon and 4pm when heat intensity is at its peak.
Turning down the party's request, the electoral body held that the time for casting votes is eight hours as per law.
The Commission has the right to extend the time, but it didn't feel any need to do so at present, it added.
Voting will continue from 8am till 5pm and voters who will be present inside polling stations after 5pm will be allowed to cast votes, according to the ECP.
Today is the last day for decisions by tribunals on appeals filed against acceptance or rejection of nomination papers for the National and provincial assemblies' seats.
The revised list of candidates will be published on Thursday. Candidates can withdraw their nomination papers by Friday and the Election Commission will allot election symbols to candidates on Saturday.
Polling for the general elections will be held on 25th of next month.