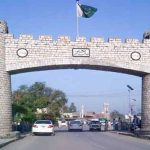 Islamabad: The Election Commission of Pakistan on Wednesday rebuffed media reports regarding receiving final date from Governor Hajji Ghulam Ali for KP election.
According to an ECP official, the KP governor, in a letter, advocated holding consultations with law enforcement agencies and political parties before declaring the election date.
Hajji Ghulam Ali said that in view of alarming law and order situation in the province and series of terrorist attacks during past days, it is advisable to consult with stakeholders before fixing final date to ensure free and fair election in the province.