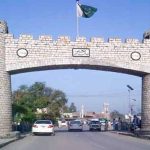 ISLAMABAD: Chief Election Commissioner Justice (retd) Sardar Raza Khan said on Monday the scrutiny of nomination papers of election candidates will be swift and as per Articles 62 and 63 of the Constitution.
The remarks were given at a meeting of the Election Commission of Pakistan (ECP) held to discuss the scrutiny of nomination papers of election candidates.
Senior officials of the ECP, as well as National Database and Registration Authority, Federal Investigation Agency, National Accountability Bureau, State Bank of Pakistan, Water and Power Development Authority and power and gas utilities attended the meeting.
During the meeting, the ECP set a timeline of eight days to complete scrutiny of candidates' documents and also included the FIA in the process for the first time.
The commission also sought recommendations from the government departments to make the process more efficient.
Moreover, the ECP decided to conduct online scrutiny of candidates ahead of this year's general elections and ruled that if a candidate is defaulting from any department, the returning officer (RO) can be informed of it immediately.
Briefing the participants, ECP Information Technology DG Khizer Aziz said ROs would send the candidate's name, identity card number and constituency name to six different government departments.
He said the ROs would be able to get all the details of the candidates online.
Aziz hoped that 30,000 candidates would submit nomination papers this time around, adding that the figure stood at 26,000 in the 2013 elections.
The officials attending the meeting requested the ECP to send nomination papers to them at the earliest so the scrutiny can be conducted as soon as possible as well as to avoid a backlog.
General elections are expected to be held in the last week of July or first week of August after the term of the present government expires on May 31.
Recently, the ECP concluded hearings of objections to the delimitation of new constituencies in the country in line with the latest population census.